The Master Channel is a groundbreaking concept introduced by the PangoCDP team and the esteemed Dr. Dinh Mong Kha, which has garnered widespread attention and adoption within the FMCG and Retail businesses. But what exactly is the Master Channel, and what remarkable advantages does it offer to businesses? Moreover, how can businesses effectively implement the Master Channel strategy? To gain a comprehensive understanding of this concept, please refer to the detailed information provided in the article below.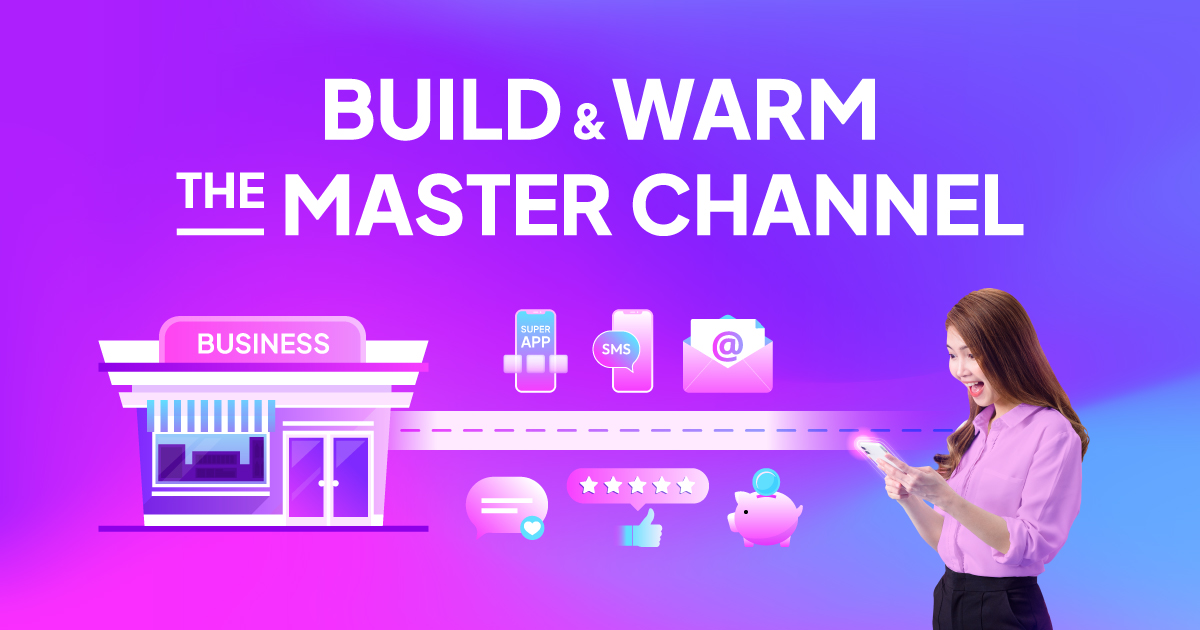 What is Master Channel?
In the ever-changing realm of marketing and customer engagement, there emerges a term that holds tremendous potential for businesses seeking to forge meaningful connections with their audience: the Master Channel. While Omnichannel strategies have dominated the landscape for the past five years, it is crucial to recognize their limitations in effectively nurturing customer relationships beyond the initial stages of engagement.
Statistics reveal that Omnichannel efforts typically account for a mere 20% of the entire customer journey. This leaves a significant void during the remaining 80% where businesses need a robust and focused communication channel to convey their care and messaging to the right individuals, at precisely the right moments. We call this channel Master Channels.
Enter the Master Channel – a concept born from the collaborative brilliance of PangoCDP's visionary team and the esteemed expertise of Dr. Dinh Mong Kha. The Master Channel embodies a strategic and targeted communication channel that empowers businesses to connect more deeply with their customers. Unlike the widespread approach of Omnichannel, organizations can unlock enhanced customer experiences while optimizing operational costs by concentrating resources and investments on a singular channel. At the core of the Master Channel lies a powerful combination of customer data and the utilization of popular Super Apps (OA + Mini App) like Zalo and MoMo, etc.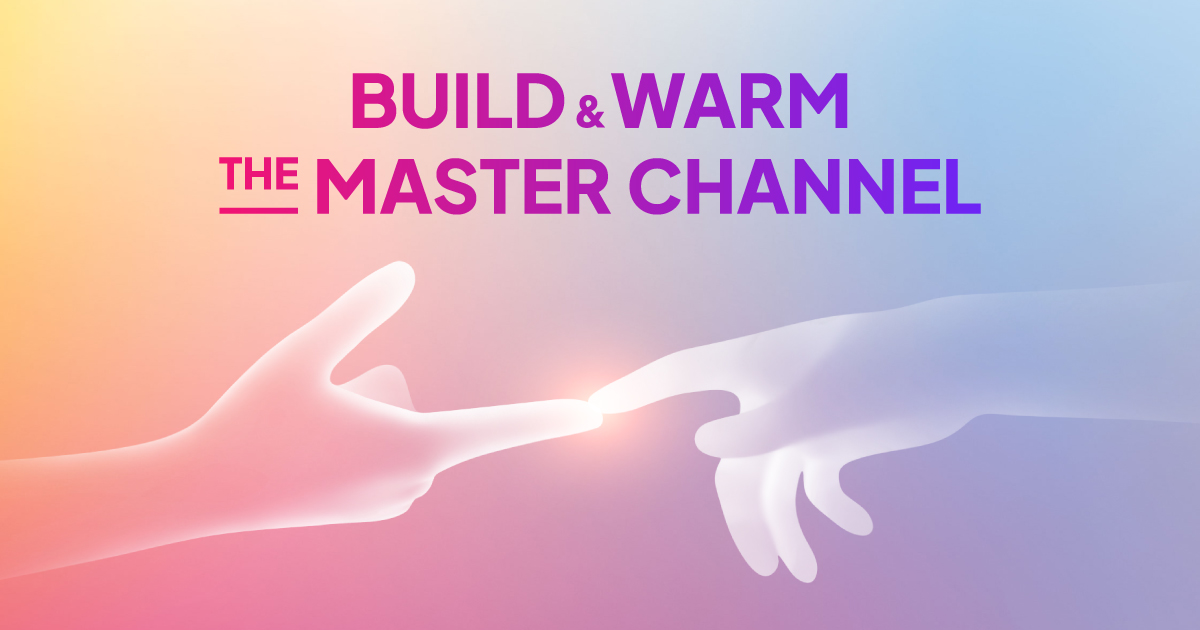 Master Channel – Emotional Connections through Interactive Channels
In today's customer-centric landscape, traditional mass sales campaigns and generic content no longer resonate with discerning consumers. What customers truly crave is an authentic connection, akin to the way they interact with their loved ones. This is where the Master Channel emerges as a game-changer, revolutionizing the way businesses engage with their customers.
By leveraging the Master Channel, businesses can elevate their customer care efforts, fostering seamless and meaningful interactions. Customers receive personalized attention and enjoy effortless communication with the brand. Through various forms of interaction, businesses can establish deep connections with customers and outlets, nurturing long-term relationships and fostering customer loyalty.
According to a study conducted by ReSci in 2021, a mere 5% increase in customer return rates can lead to a substantial revenue boost ranging from 25% to 95%. Moreover, the cost of acquiring new customers can be a staggering 6-7 times higher compared to the cost of retaining existing ones, as revealed by Zippia. This highlights the pivotal role of the Master Channel in helping businesses optimize their costs and enhance profitability.
The versatility of the Master Channel is its strength, as it offers a range of familiar and adaptable communication channels tailored to the unique needs of each business. Whether it's SMS, Zalo, Viber, Email, Website, Application, Landing Page, MoMo, etc., the Master Channel ensures high applicability and efficacy. It comes as no surprise that many FMCG and Retail businesses have already embraced and implemented the Master Channel, recognizing its tremendous potential in driving customer engagement and loyalty.
The Fundamental Elements of the Master Channel Concept
The Master Channel concept comprises four key elements: "Channel," "Core," "Warm," and "Build".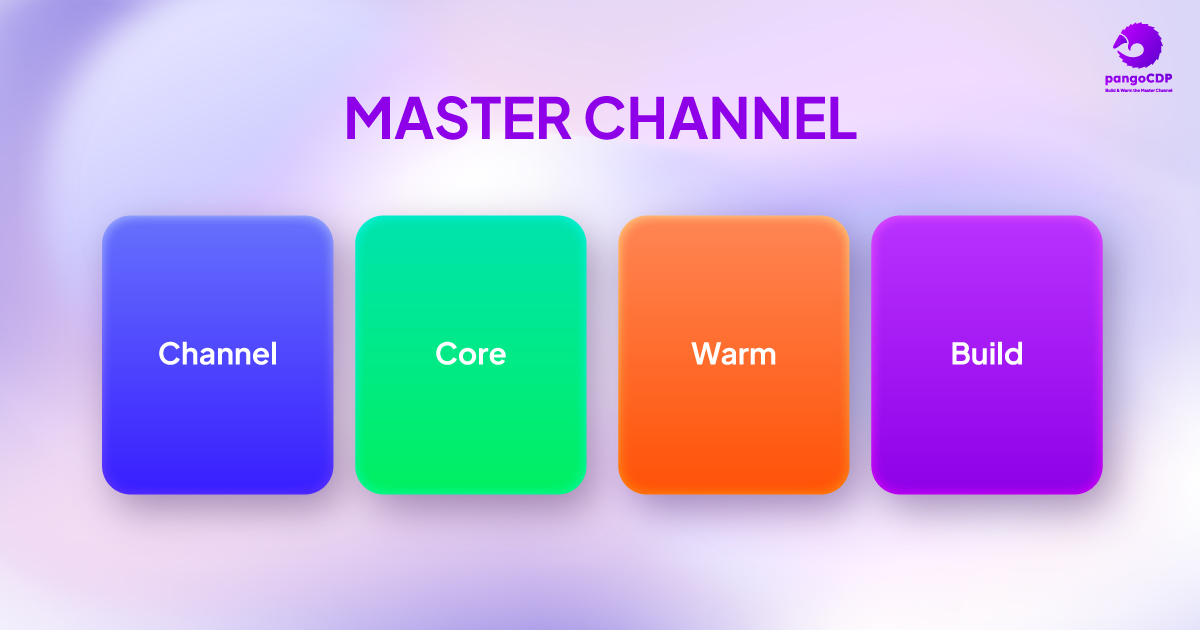 1. Channel
The "Channel" represents the platforms through which businesses communicate with their customers. In the FMCG and Retail industry, the Zalo Official Account (Zalo OA) has emerged as a preferred choice for many businesses due to its widespread usage among Vietnamese consumers. However, there are various channels available, and businesses should carefully select the most suitable ones for their target audience.
2. Core
The "Core" component refers to the operating system that facilitates crucial business activities such as ordering, delivery, and customer care. For instance, a customer inquiry is efficiently handled by routing it to a specialized inquiry specialist through the Customer Support system. Similarly, businesses require robust systems like Enterprise Resource Planning (ERP) and Distribution Management System (DMS) to manage product movement from warehouses to the outlets. Data generated within the "Core" is then aggregated and segmented on a Customer Data Platform (CDP), such as PangoCDP, to optimize the customer experience at later stages.
3. Warm
The "Warm" element revolves around sustaining the engagement and interaction with customers. It involves employing creative activities and messages that resonate with individual customers. Examples of such activities include product launches, appreciation for loyalty points, surveys, and personalized customer care initiatives. By keeping the communication channel "warm," businesses foster lasting connections and reinforce customer loyalty.
4. Build
The "Build" element encompasses various strategies to encourage customer engagement with the interactive channel. Businesses can promote their Master Channel through different marketing channels like television, radio, Google, Facebook, and other advertising platforms. Additionally, incorporating interactive and entertaining elements such as lucky wheels, gift voucher codes, and birthday celebrations further incentivizes customer participation. QR codes can also be utilized on product packaging or banners, enabling customers to quickly scan and access the business's online presence.
Creative Application Scenarios to Enhance the "Warm" Element
To ensure customers remember and actively engage with their brand, businesses must consistently strive to deliver personalized messages and organize captivating entertainment activities. Within the context of the "Warm" element, those interactive activities can be mentioned as surveys, gamification, etc.
For a more specific example, rather than simply reminding customers to utilize their expiring bonus points, businesses can incorporate the minigames.  Another scenario is by using communication channels such as SMS, Email, Zalo, Viber, etc., businesses can send customized vouchers to customers who have shown low satisfaction levels.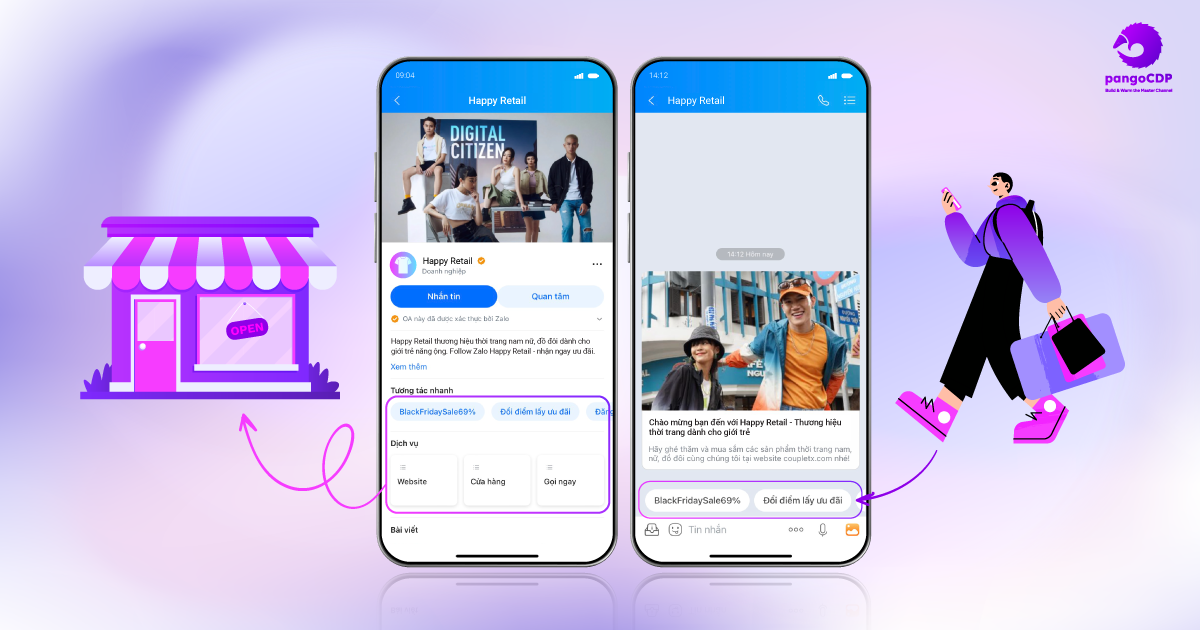 Outstanding Benefits of Zalo in Deploying the Master Channel?
When considering the ideal Master Channel for a business, several factors come into play, including user experience, interaction/response rate, and cost optimization.
Zalo OA serves as a "home" for businesses, creating a familiar and comfortable environment for interactions between businesses and customers. This natural setting enhances the connection between the two parties, fostering closer relationships and increased engagement.
Besides, Zalo boasts a vast user base, with over 74 million regular users in Vietnam. By leveraging Zalo, businesses can tap into this large pool of potential customers, saving time and effort in educating users on how to interact with their brand.
Businesses can directly deliver promotional information, new products, and services to specific customers, measure interest rates and sales results.
Businesses can provide loyalty experiences, membership tiers, and accumulated points to incentivize customer engagement. Proactive reminders about special offers within the Master Channel increase the "active" rate of members, driving direct sales and fostering customer loyalty.
Offer a range of interactive activities that businesses can leverage, including winning mini-games and conducting surveys to collect valuable customer data. These activities facilitate rapid growth in both the quantity and quality of customer data.
Establish direct connections between customers and support staff, fostering a "human-to-human" approach in customer care services. This personalized interaction enhances the overall customer experience and showcases the professionalism of the brand.
Additionally, Zalo provides special features and applications such as Zalo OA and Zalo Mini App, further enriching the capabilities available for businesses. Considering these benefits, Zalo emerges as a compelling choice for businesses seeking to optimize costs, achieve high efficiency, and leverage the power of social media platforms in their Master Channel strategies.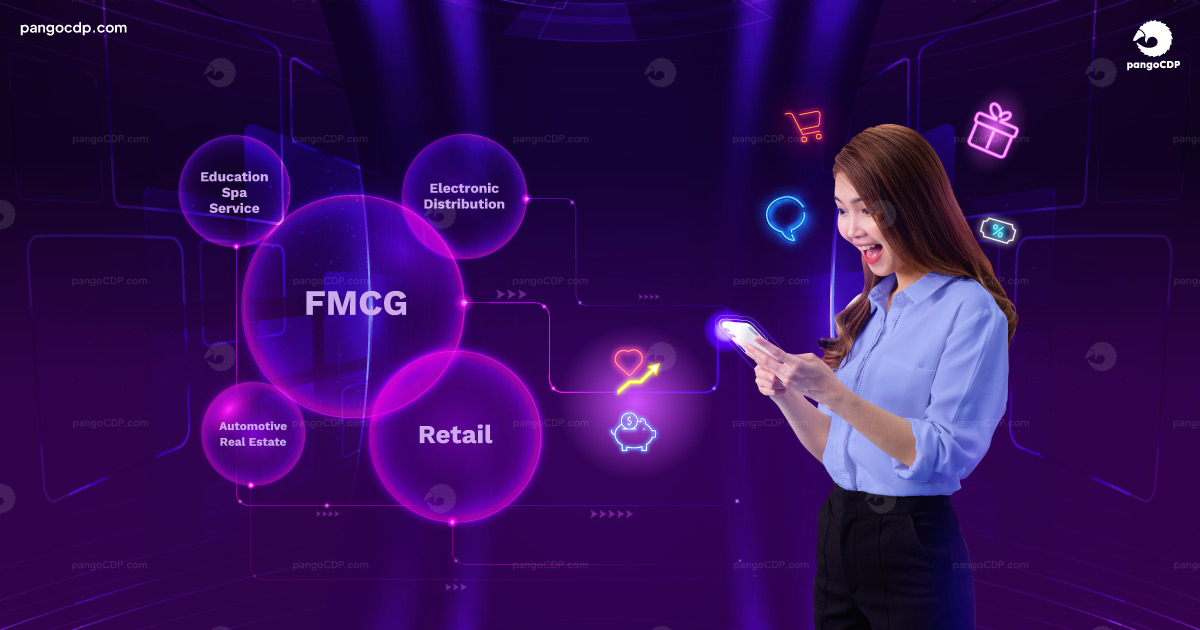 How to apply Master Channel effectively?
Applying the Master Channel effectively requires businesses to consider the unique characteristics of their industry and gain insights into their target consumers. While businesses may focus on specific elements of the Master Channel, such as Channel, Core, or a combination of Build and Warm, it is important to note that utilizing all four elements is crucial for delivering an exceptional customer experience.
If a business solely relies on the "Channel" and "Core" elements, it means they have established a communication channel with consumers and possess a sales operation management system. However, if they fail to deliver meaningful messages at the right moments, the relationship between the brand and the consumer may not be consistently nurtured, resulting in a weakening connection between the two parties.
Likewise, if businesses only emphasize the "Channel" and "Warm" elements without incorporating the "Core" element, they may send creative messages without a system to process and collect behavioral data or analyze user insights. As a result, businesses may struggle to create personalized messages that align with each customer's behavior and needs.
Therefore, it is essential for businesses to make concerted efforts to build all four elements of the Master Channel. By doing so, they can provide customers with a more comprehensive and engaging experience that meets their individual preferences and requirements.
Practical application of Master Channel for each industry
Since its inception in June 2022 by the PangoCDP team and Dr. Dinh Mong Kha, the Master Channel has garnered significant interest and application across various industries, including FMCG, Retail, Education, F&B, and more. Leading enterprises have recognized its effectiveness and embraced its implementation in their operations.
Dr. Mai Thanh Viet, Deputy CEO of Nutifood, shared a compelling story highlighting the significance of customer data in applying the Master Channel. He emphasized that: "When it comes to implementing the Master Channel, customer data takes center stage as the most crucial element. The possession of extensive end-user data confers a significant competitive advantage to businesses. To effectively manage and leverage this valuable asset, a centralized data system like PangoCDP plays a pivotal role. The most notable achievement resulting from the successful implementation of the Master Channel has been the creation of a passionate community of Nutifood product enthusiasts."
Mr. Kien Nguyen, Digital Transformation Manager at Couple Group, an investment group in the apparel and fashion industry and the owner of the Couple TX brand, shared another real-life example: "After customers made purchases, we utilized the Master Channel, specifically Zalo, to send them survey cards. We diligently tracked and recorded data, generating daily reports. As a result, the customer experience with the Couple TX service improved significantly, leading to increased conversion rates."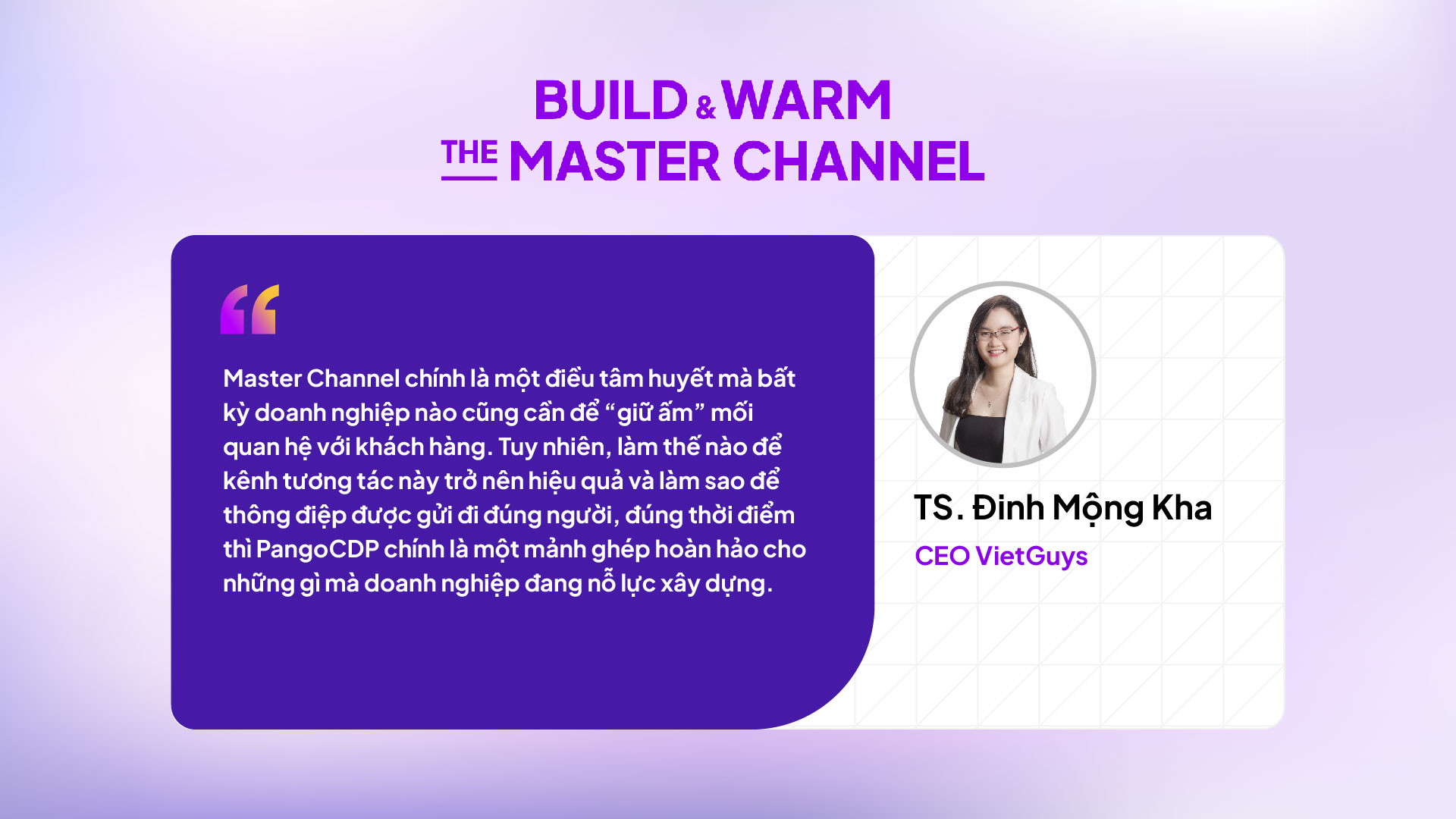 Conclusion
The Master Channel is a vital tool for businesses to establish a strong and personalized connection with their customers. By utilizing popular chat applications and leveraging customer data, businesses can deliver personalized experiences and drive revenue growth.
Dr. Dinh Mong Kha, CEO of VietGuys, shared: "Establishing a Master Channel is essential for businesses to foster a strong connection with their customers. Whether it's through SMS, Zalo, or Viber, etc. choosing the right Master Channel enables personalized experiences and drives revenue growth. 
Nevertheless, achieving optimal effectiveness in this interactive channel and delivering targeted messages to the right individuals, at the right moment, is precisely where PangoCDP excels."
In fact, through the deployment of PangoCDP, many renowned enterprises in various industries such as FMCG, Retail, Education, F&B, etc. have achieved notable success and effectiveness. Some prominent brands that PangoCDP has cooperated with are Nutifood, CellphoneS, Mykingdom, TBS Retail, Couple TX, Yody, AB Inbev, VitaDairy,,….
Understanding the concept of the Master Channel is crucial, and we hope the information provided in this article has provided you with valuable insights into the "Build and Warm the Master Channel" model. For more information about technology solutions in the field of Marketing, please don't hesitate to contact the PangoCDP team directly.
Email: hi@bytetech.io
Address: Floor 1, 203 Nam Ky Khoi Nghia Street, District 3, HCMC